In-Home Dog Boarding or a Boarding Kennel: 6 Things to Consider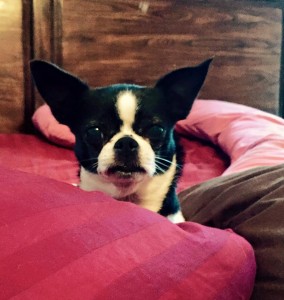 Our pets are members of our family!   Before setting out on that family vacation or business trip, we must consider our options and make the best arrangements for their care.  Our pet's well-being depends on us – even when we are away.  Should you choose a commercial kennel or in-home boarding?
Individualized Attention

Leander Pet Care:  We have a maximum of five dogs here on any given night, as this is what our insurance allows.  This allows us to give each dog the special attention that they deserve!  Your dog will be treated like a member of our family, which includes: lots of love and belly rubs, free roam of the house, allowed on pet beds and the couch, and personalized activities that your dog enjoys.  If your dog delights in plenty of playtime and walks during the day, but quiet at night, then in-home boarding may be the perfect choice!

Boarding Facility:  Some boarding kennels can house up to 100 dogs at a time!  All of the dogs in one facility may be fun for one dog, and cause major anxiety in another.  Does your dog absolutely love to be around constant activity?  Then a boarding kennel may be the best option!  Before making reservations at a facility, find out how much individualized attention is included in the rate.  Is there an extra charge for your dog to be walked and/or have playtime?  Will your dog be handled by one person or multiple people?  Where will your dog spend most of it's day – in a kennel or playing?

Availability

Leander Pet Care:  We are only able to take a limited amount of dogs per night.  Therefore, we can book up far in advance, especially around holidays.  If you know that you will need care for your pet and believe that in-home boarding is the option for you, it is best to contact us as soon as possible so that we may reserve your spot!

Boarding Facility:  Most boarding facilities do accept a high volume of dogs, and may have availability when in-home boarding does not.

  Operating Hours 

Leander Pet Care:  Our guests enjoy 24 hour care in our home.  This is a great option for young puppies who cannot make it through the night without needing a potty break, or the senior who needs nightly medication.  Guests also have flexibility in pick up and drop off times, and may make an appointment for pickup any time between 8 am and 8 pm, 7 days a week.  

Boarding Facility:  The hours of care will depend on the individual boarding facility.  Some facilities in the Leander area do offer an inside/outside dog run so that dogs may relieve themselves at any time of day or night.  Generally, boarding facilities do have a limited schedule for drop off and pick up.  Many boarding facilities do not offer appointments for drop off and/or pick up on Sundays.

Training

Leander Pet Care:  Although we have experience with a variety of dog breeds, we are not trainers. If you are trying to train your dog to learn a certain word or command, just let us know and we can work on it with him or her during the stay.  We will also work on loose-leash walking during our daily walks.

Boarding Facility:  There are combination training/boarding facilities in the Leander Area.  Your dog will have a home for a few weeks, while also learning obedience!  

Exposure to Aggressive Dogs

Leander Pet Care:   All pets are checked for temperament to confirm they are acceptable with other pets before they are accepted for boarding.  We are Pet CPR and First Aid Certified, and have the experience to typically foresee a problem before it occurs.  Dogs give off subtle signs that they are not comfortable with another dog, and we have learned to watch for these signals.

Boarding Facility:  This will depend on the boarding facility that you choose.  Be sure to inquire about their policies and if dogs are temperament checked before they are accepted.

Peace of Mind


Leander Pet Care:  When your dog stays with us, you will have a safe and happy companion when you return.  We know that trusting someone to care for your pet(s) can be a challenge for most people, and we strive to eliminate this concern as much as possible.  We will update you as much as you'd like throughout the day with texts, pictures and videos to give you peace of mind.  We also welcome you to call, text or email any time you would like to check in on your pet.

Boarding Facility:  Receiving updates about your dog will depend on the individual facility that you choose.  Some facilities do send updates, some don't, and others do for a fee.
Please thoroughly check the references and policies of the business that you entrust with your pet's care.  When you go on that trip you've been saving for, or to visit family during the holidays, you want to have the comfort and satisfaction of knowing that you have made the best possible choice for your pet, until you are reunited again.