Check on Your Pets and Home with the Scout66 Pet Video Camera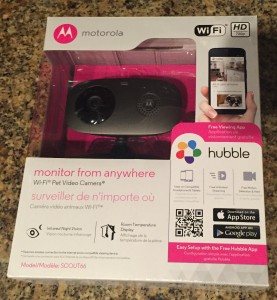 Have you ever wished that you could see what your pets are up to while you're not home? Well, now you can. Earlier this month, my family went on vacation to Southern California. My first priority in preparing for the trip was to arrange care for our dogs, so we hired a petsitter. I knew our dogs would be spending time home alone while we were gone, so in came the Motorola Scout66 Wi-Fi pet video monitoring system. The Scout66 is perfect for pet owners who wish to check in on their pets throughout the day. The monitoring system allowed me to have peace of mind that our pets and home were safe while we were on vacation. I was able to speak to and play music for my Chihuahua, who tends to have separation anxiety. The camera also has a temperature gauge, and it was reassuring to know the temperature in my home and that the dogs were not overheating.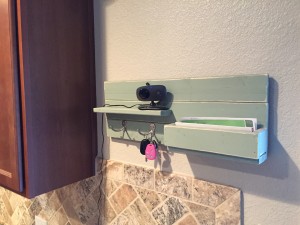 Setting up the Scout66 was easy, using the included manual as a guide. I decided that the best place to put my camera was on a shelf in my kitchen. This allowed me to get a good view of the places that my dogs hang out the most. Next, I turned the camera on and downloaded the Hubble app on my iPhone, which is Motorola's live video streaming app. After the Hubble app was finished installing and I logged in, I simply clicked on "Add Camera" and then followed the in-app instructions. Within ten minutes of unwrapping the Scout66 box, I was seeing live video of my kitchen and living room.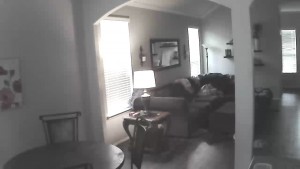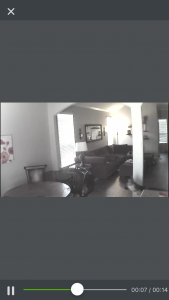 The Hubble app came with a free two-week trial that recorded video of any movement in my kitchen and living room. The video was then stored on the cloud for me to view at my convenience. Every time our pet sitter visited while we were gone, I received a notification that motion was detected in my kitchen. This let me know the precise times that my dogs were being fed and let out to go potty. I was able to relax on our trip, knowing that my dogs were being cared for on schedule. I like that I am able to see if my dogs are misbehaving while we aren't home. I can open the app, see what my dogs are up to, and tell them "no" if needed. When I do this, it catches their attention and stops the undesirable behavior.
The Motorola Scout66 has given me confidence that my pets are safe and happy when I'm away. I was blown away by the many features, especially the two-way communication and the clarity of the picture. I highly recommend it to all pet parents that want to check in on their pets when they aren't home. If you would like to get your own Scout66 pet video monitoring system, follow this link to Motorola's website.
I received the Motorola Scout66 Wi-Fi pet video monitoring system free in exchange for my honest review. All opinions are 100% my own.