What Should I Bring With My Dog for In-Home Boarding?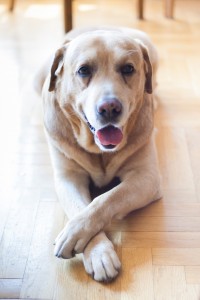 This is the continuation of our blog series on some of the most frequently asked questions about Leander Pet Care's pet sitting services!
What Should I Bring With My Dog for In-Home Boarding?
Dog Food & Treats.  Please bring just enough food for your dog's stay, with an additional 1-2 feedings in case travel plans change.  It is best to package each meal into an individual baggie. For stays longer than two weeks, it is fine to bring your dog's food in bulk.
We will happily feed your dog a raw food diet and clean up the raw food dishes, if desired.  Please bring raw food prepared and individually packaged into meals. It works well for clients to freeze the raw food in individual packages, and then we remove a day's worth of food from the freezer first thing each morning.
Bringing treats for your dog's stay is optional.  We do have healthy, grain-free treats, but please let us know if you would rather we not feed your dog our treats.
Crate. If your dog usually sleeps in a crate, or stays in a crate while you are away, please bring a crate for boarding in our home.  We do keep extra crates, but it is important to inquire about their availability before your dog's stay.
Pet Bed.  Will your dog feel most comfortable sleeping on the same bed that he or she sleeps on at home?  We do have extra pet beds, but sometimes dogs feel more relaxed sleeping on what they're used to.   
Toys.  We ask that you limit the toys you bring to 3, and to not bring any toys that would be devastating to you or your dog if they were lost or broken. 
Leash/Harness & Collar with Tags.  Please do not forget your dog's leash, as he or she will be taken on two walks per day, weather permitting, on the safe sidewalks of our neighborhood.
We require that your dog have a current rabies tag and ID tag.  Please give us two weeks notice and we can have an ID tag made for your dog for a $10 fee.
Medication, if Needed.  We will gladly administer your dog's medication on schedule during his or her stay.