Six Pet-Friendly Establishments in Leander, Texas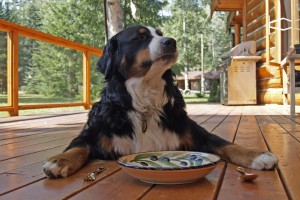 When my husband and I moved from Round Rock to Leander in 2006, there was a much different vibe than there is today. There was no hustle and bustle of the MetroRail commuting people to their place of business in downtown Austin. We had to drive to Cedar Park to grocery shop, as the Leander HEB Plus did not open until 2007. Places to eat and things to do in Leander seemed few and far between back then!
We love our growing city. According to leandertx.gov, "Since 2000, the community has grown from 7,600 residents to more than 30,000 in 2010. This makes Leander the 37th fastest growing City in the United States (US Census Bureau, 2009)."
We feel fortunate to live in a city that offers ample opportunity to bring man's best friend along for an outing. Whenever possible, we love to take our dogs with us! We enjoy their company, and it gives our dogs the opportunity to further utilize the social skills that we have been instilling in them since puppyhood. The following is a list of local establishments that welcome your dog to join you.
Dog House Drinkery & Dog Park
3800 CR 175
Leander, TX 78641
512-630-5699
www.doghousedrinkery.com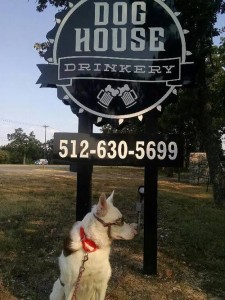 Dog House Drinkery & Dog Park offers the unique combination of a dog park and bar. This business has ample indoor and outdoor seating so that your dog may accompany you while you drink a beer, have a glass of wine, or drink a non-alcoholic beverage. A food truck serves yummy bar food on the weekends, so that you also have the option of dining with your dog! Dog House Drinkery has a 1/2 acre off-leash dog park, which is beautifully maintained. The dog park can be accessed for a small daily fee, or you have the option of purchasing a yearly membership for unlimited access. Check out Dog House Drinkery's website to see upcoming events, which include live music and various fun ways to get involved in our community!

Kai Sushi
1805 US 183
Leander, TX 78641
512-456-0147
http://www.kaisushiatx.com/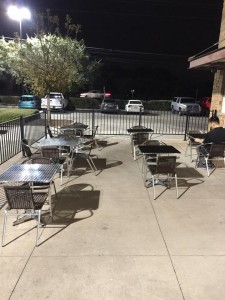 I have personally heard so many wonderful things about Kai Sushi, a new restaurant in Leander.  Kai Sushi held their official grand opening on August 1st, and have been welcomed with open arms by the Leander community. This restaurant offers sushi along with traditional Japanese and Korean food, in an inviting and beautifully decorated restaurant.  The owners of Kai Sushi are the proud parents of 3 furbabies, and welcome and love to have dogs visit them on the patio of their restaurant.
Leander/Northwest Austin KOA
2689 Hero Way
Leander, TX 78641
512-259-7200
http://koa.com/campgrounds/leander/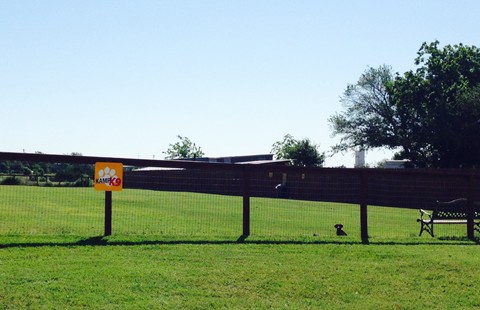 Leander's local KOA has a variety of accommodations and activities for all ages. Whether you like to sleep under the stars, or would prefer the camping experience while staying in a Kamping Kabin with AC and cable TV, the Leander/Northwest Austin KOA has something for everyone!  This establishment has a K-9 Pet Area, and states on their website, "We care about your pet and we think it is one of the most important members of your family.  That's why we have a big area designated for them to play and have fun!!!".  Next time you and your dogs are in need of some nature therapy,  or have friends/family visiting Leander, be sure to check out the Leander/Northwest Austin KOA.
Leander Beer Market
106 West Willis Street
Leander, TX 78641
512-271-7096
https://www.facebook.com/Leander-Beer-Market-331242267039178/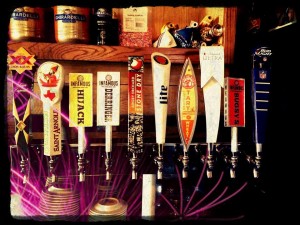 Leander Beer Market is a beer garden in Old Town Leander that serves thirsty patrons a huge selection of craft beers from local breweries, and also from breweries around the world. This bar allows patrons to mix and match a 6 pack of beer to go, and also has a nice selction of fine wines.
Fans of the now closed Luigi's Italian Restaurant will be happy to know that the same family owns Leander Beer Market, and much of the food offerings from Luigi's are on the menu!  Dogs are welcome to hang out on the patio of this establishment, while their owners eat and sample the many different ales.
Leander Gelato, Desserts Coffee
106 West Willis Street
Leander, TX 78641
512-271-7095
https://www.facebook.com/Leander-Gelato-Desserts-and-Coffee-821297297941769/?fref=ts
Leander Gelato, Desserts and Coffee is owned by the same family as Leander Beer Market, and they share a building and patio.  This establishment serves up delicious gelato, coffee and bakery desserts.  Dogs are welcome on the outdoor patio.
Southern's Pizza & Sports Pub
1913 S. Highway 183
Leander, TX 78641
512-259-2699
http://www.southernspizzaandsportspub.com/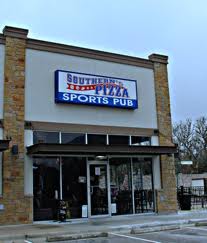 Southern's Pizza & Pub is a local sports bar that serves up pizza, salads, subs and more.  The pizza is cooked the old-fashioned way – in a brick oven!  This establishment also has a beer and wine selection, as well as gluten-free options.  Southern's Pizza and Pub has 7 HD TV screens to watch your favorite sports game in High-Def!  The outdoor patio is pet friendly for dogs on a leash, so they may accompany their owners while they eat.
Did we miss any local Leander establishments that are pet-friendly?  Please tell us in the comments!